One of the largest and most significant assets on the books of General Electric (NYSE:GE) is the company's Healthcare segment. The operation was founded in 1994, but its roots trace back to the late 1800s under the name Victor Electric Company. Over the years, the segment has grown to be a real powerhouse for the conglomerate, generating several billions of dollars in sales and profits annually. Undoubtedly, this adds value to General Electric and is a bright spot for the company in this time of investor pessimism.
A major player in the healthcare space
By almost every measure, GE Healthcare is a force to be reckoned with. In a prior article, I highlighted the company's ultrasound operations, but I have yet to piece together the segment as a whole. According to management, and shown in the image below, the segment's largest source of revenue comes from diagnostic imaging and related services, with sales at about $8 billion per year. However, the segment's $5 billion in sales from life sciences, followed closely by mobile diagnostics and monitoring at $4 billion, is large as well.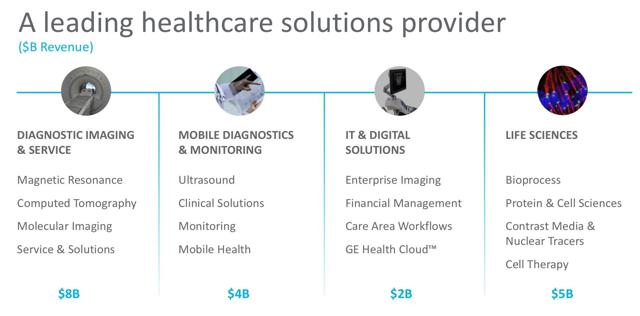 *Taken from General Electric
In all, this major footprint has allowed the company to amass a sizable chunk of its markets. Over 1 million imaging and mobile diagnostics devices that are under the GE Healthcare banner are estimated to be installed globally today. They perform in excess of 16 thousand scans every minute and in aggregate they have over 230 million exams of varying natures under their belts. As you can see in the image below, management has utilized its position to create partnerships with players like Amazon's (NASDAQ:AMZN) AWS, as well as other prominent names like Microsoft (NASDAQ:MSFT) and Intel (NASDAQ:INTC).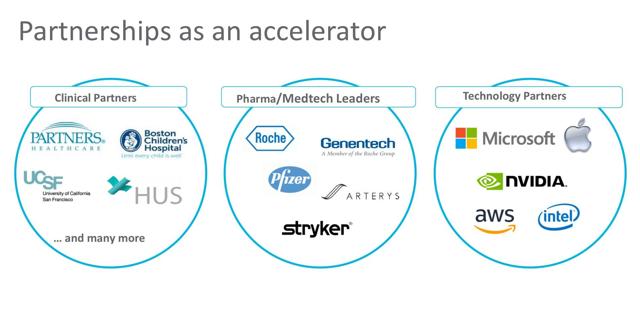 *Taken from General Electric
What's more, management isn't done trying to grow GE Healthcare. Last year, the firm launched 26 products and through GE Additive and Stryker Corp (NYSE:SYK) it has more than 50 active projects in its pipeline. Another area (though management hasn't provided any meaningful detail of it) that has been entered into is providing cloud-related services. This could be a material player for the segment in the future, but until we see evidence that management can compete in what has become a very crowded (but high-growth) space, I can't warrant putting too much stock into that bet.
Performance has been robust but growth is slow
GE Healthcare has a history of being a great source of profit for its parent company. As you can see in the chart below, sales have slowly risen over at least the past five years, rising from $18.20 billion in 2013 to $19.17 billion in 2017. As you can see in the same graph, despite seeing a tick down from 2013 to 2014, sales of the segment have been pretty flat as a percentage of General Electric's total industrial revenue.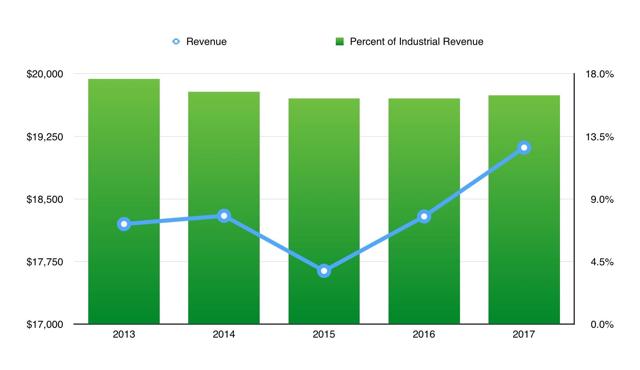 *Created by Author
In recent years, international exposure has become more relevant for GE Healthcare. Today, the segment employs around 52 thousand employees spread across more than 140 countries and management has listed China as an attractive growth prospect moving forward. In fact, non-US sales for the segment totaled 55.5% of aggregate segment sales for it in 2017. This represents an increase from the 53.6% of sales that came from outside of the US just one year earlier.
As revenue has risen for the segment, so too has backlog. In 2013, this figure totaled $16.1 billion, but it has since risen to $18.1 billion. Without any doubt, this metric has benefited from a growth in orders over time. In 2017, total orders for the segment amounted to $20.4 billion. This represents an increase over the $19.2 billion seen in 2013 and 2016. According to Reuters, the imaging industry is likely to see significant growth over the next few years. In 2016, total industry sales were $29.8 billion, but that number is expected to balloon to $45.1 billion in 2022. That implies an annual sales growth for this space of around 10.9% per annum. Assuming this or anything close to this comes to fruition, backlog will grow over time for the segment.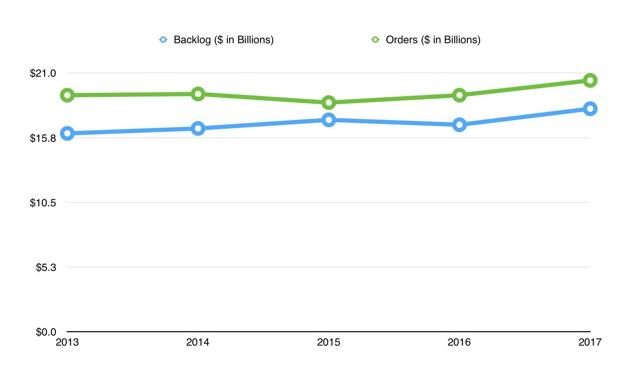 *Created by Author
From a profitability perspective, the figures over time have been even better. After seeing segment profits decline from $3.05 billion in 2013 to $2.88 billion in 2015, we saw a nice rebound over the past two years that brought profits up to $3.45 billion for 2017. That's the highest figure I saw on record for GE Healthcare and it accounted for 23.4% of General Electric's Industrial segment profits, which was also a record high that I could see.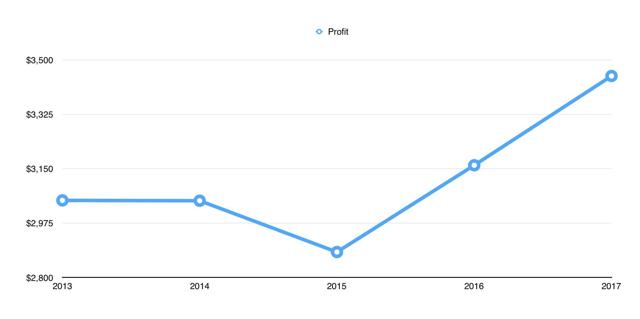 *Created by Author
Based on the numbers provided, this growth in profits, driven not only by higher sales but by cost reductions (according to management) has led to GE Healthcare's profit margin expanding as well. Over the past five years, GE Healthcare's segment profit margin grew from 16.7% to 18% (dipping as low at one point as 16.3%). A similar trend can be seen in the graph below, which shows that the return on assets for the segment has grown over time, rising from 10.9% to 12% today.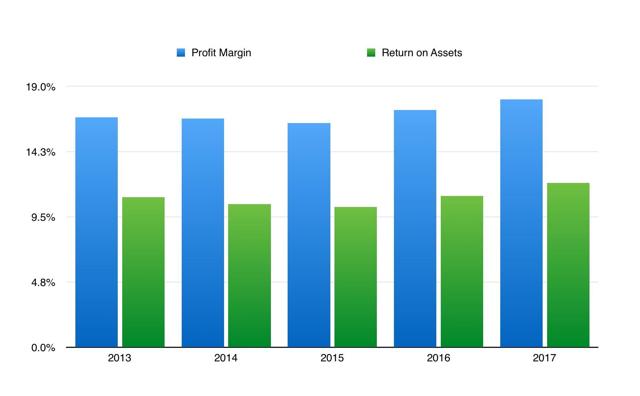 *Created by Author
Strong growth prospects, combined with attractive and improving margins has led to the formation of a thought in my mind. At this point in time, General Electric is stuck between a rock and a hard place. On one hand, the firm has been slammed by insurance reserves, SEC investigations, and other issues in recent months. This has resulted in shares of the business declining by around 54% from their 52-week high, effectively erasing $143 billion worth of market value from the firm.
As concerns grow that cash flow may not be enough to meet spending needs (especially now that GE Capital has cut off its distribution to its parent) and the company's dividend to shareholders, now might be the time to consider selling off GE Healthcare. It's difficult to tell what kind of value exists here for shareholders, but one good estimate might be derived from looking at Danaher (NYSE:DHR).
According to the management team at Danaher, 63% of the company's revenue is split between life sciences and diagnostics operations. These are essentially the same kinds of operations that GE Healthcare engages in. Another 15% of Danaher's revenue is attributable to the dental space, which isn't too dissimilar to make the case that Danaher is largely a proxy for GE Healthcare.

*Taken from Danaher
Like GE Healthcare, total segment profits (I'm excluding "other" that shows up as a $170 million loss), carry with them nice margins. Using 2017's figures, the profit margin for Danaher was 17.4%. With revenue of $18.33 billion, the company is just a bit smaller than GE Healthcare as well. When you consider that Danaher's market cap is $69.97 billion as of the time of this writing, you come to the conclusion that the firm is trading for 3.82 times revenue and 21.9 times segment profits. Applying the same figures to GE Healthcare would imply a value on the business of between $73.02 billion and $75.51 billion. Such a sale, at the high end, would be enough to reduce General Electric's debt from $136.21 billion to $60.70 billion if management so desired.
Takeaway
GE Healthcare is a great business. Despite seeing sales grow slowly, margins associated with the segment are attractive and the industry's upside is material. Additional value would probably be realized from having the company be separated from the conglomerate since a new management team could place a more concerted effort toward growing the enterprise. The value of Danaher suggests that management could also solve a lot of its issues regarding liabilities if it were to decide part ways with the segment, perhaps even freeing up capital to reinvest toward higher-growth prospects like Aviation, Renewables, and Oil & Gas.
Disclosure: I/we have no positions in any stocks mentioned, and no plans to initiate any positions within the next 72 hours.
I wrote this article myself, and it expresses my own opinions. I am not receiving compensation for it (other than from Seeking Alpha). I have no business relationship with any company whose stock is mentioned in this article.