The eagerly awaited first General Electric (GE) earnings call under new CEO Larry Culp did not disappoint. Culp immediately went over almost every major issue and addressed them without sugar coating. He clearly communicated he wants change and the company wants it with him, which I though was a very positive message and takeaway. Finally, he refrained from presenting easy fixes which seemed healthy just 30 days into the job.
I did like the new CEO on appointment (like everyone else) but I didn't want to buy General Electric at least until this call was behind us. New CEOs have a tendency to put out all dirty laundry on the first one or two calls. As an incoming CEO that's your chance to show the world what a mess you are left with. It wasn't as bad as it could have been but the stock dropped big time.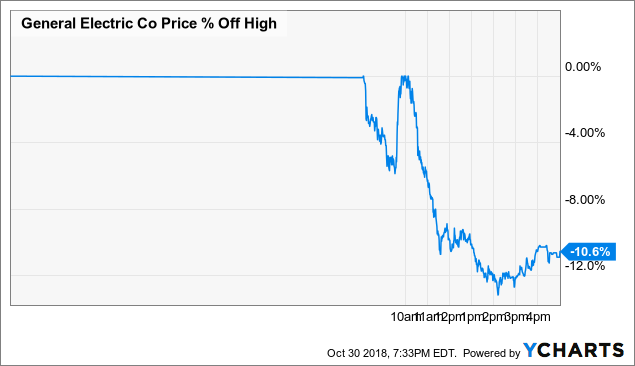 So now it's getting really interesting. Here are my key takeaways from the earnings call:
Dividend
GE scrapped its dividend. OK, they kept it at $0.01 but that's probably just to prevent ETFs and funds that require a dividend because of their mandate from selling. This will save GE nearly $4 billion in cash that it can direct toward debt paydown and GE Capital. This was sort of expected and is widely seen as a wise decision. It may still cause some people to throw in the towel and perhaps some forced selling by dividend-focused funds/ETFs that require a higher level. This is good because maybe we can buy cheaper.
Power
Power is where it's at. There's going to be a lot of news coming out with respect to this unit. I'm predicting 1) a spin-off or sale of part of the power business and 2) significant layoffs across the entire unit. Here are a few selected quotes from the earnings call:
Second, we will take a materially different approach to running our Power business.

…It has become clear to us that we need to simplify the business structure. Therefore today we are announcing our intent to reorganize Power into two units, both of which will report directly to me.
Likely both headed by a president and able to be sold or spun out more easily. Financials will be easier to understand by potential buyers.
Then an analyst asked a question about the Power reorganization and Culp answered as follows (emphasis mine):
Nicole, I think what we've done today is really share both internally and publicly the organizational architecture, if you will, that we have in mind. There are a number of details that Russell, the team and I will be working through in the days and weeks to come. And as those details become more clear, we'll share those first internally, and then we will share them with you and others publicly.
I think that means lots of layoffs, and they will be concentrated in power.
GE Capital
As expected by the market GE Capital is going to be a drag for years. It will eat up at least $3 billion next year. However, it didn't sound completely hopeless. I didn't get the impression this division was about to sink the company. That probably means Culp doesn't think it will in the long term either. A good sign.
Conclusion
Because the dividend was scrapped combined with the general market environment there may be more short-term selling. Valuation wise it's getting more attractive. From a tactical standpoint I think it's better to wait. This comes at the risk you'll miss out getting GE in the single digits.
I expect harsh cuts in power and that may give the stock a jolt. This will take a few weeks at a minimum.
GE Capital's restructuring and debt paydowns will eat up lots of free cash flow for the foreseeable future. Until the market is sure these two issues are no longer issues, GE will not get back into favor. This may take 3-4 years. Unless part of the power unit is sold or spun out and/or Baker Hughes (BGHE) puts in a few good quarters and GE can monetize its stake attractively.
Bottom line – General Electric is an attractive deleveraging story with a terrific CEO. Given tactical considerations I wouldn't build more than a starter position and would slowly build as it slides because dividend funds are selling.
I wrote this article myself, and it expresses my own opinions. I am not receiving compensation for it (other than from Seeking Alpha). I have no business relationship with any company whose stock is mentioned in this article.
Disclosure: I/we have no positions in any stocks mentioned, but may initiate a long position in GE over the next 72 hours.
I wrote this article myself, and it expresses my own opinions. I am not receiving compensation for it (other than from Seeking Alpha). I have no business relationship with any company whose stock is mentioned in this article.