The Canadian cannabis stocks have rallied sharply in recent weeks. There was another 5.4% advance in the Let's Toke Business Composite Index by November 15, 2017. The following chart illustrates this advance. While it may not appear that significant, it is an average gain of over 10% in a week and one-half. If you held some of the bigger movers, it has been much more than that.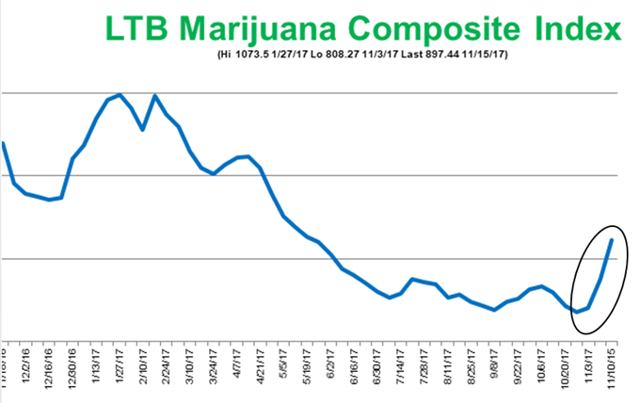 This has left many investors wondering what to do now. Those who are in, ask whether they should get out. Those who aren't in, ask whether it's too late to get in. In the markets, such decisions never get easier. And we have to consider that whenever someone is buying a stock, someone else is selling it. It's hard for both parties to the trade to be correct.
Some Signs To Think About
There are a few worrisome signs for cannabis stocks out there. The most troublesome is the unanimity of belief that the Canadian cannabis stocks are going to roar ahead to July 1, 2018, the widely accepted legalization date in Canada. I was taught many years ago that in the stock market, the majority is eventually wrong. The Art of Contrary Thinking by Humphrey B. Neill is an outstanding read for those who want to understand how the market works. After reading the book, it was simply a case of watching markets with contrary opinion in mind. I have done for many decades. At the present time, there is a little too much consensus in favor of the cannabis group for my liking. So I'm not panicking, but I am feeling a little less comfortable.
Another recent development is the re-emergence of the single stock circuit breaker (SSCB). Similar mechanisms exist in stock markets around the globe. The Investment Industry Regulatory Organization of Canada (IIROC) can order a five-minute trading halt for a stock it deems has been or is too volatile. The idea is a trading halt will draw attention to the stock and enable investors to respond in the expectation saner heads will prevail. They often do.
The last time we had a series of SSCB trading halts in the cannabis stocks was November 16, 2016, when there were six involving Aphria (OTCQB:APHQF), Aurora Cannabis (OTCQX:ACBFF), Canopy Growth (OTCPK:TWMJF), Mettrum Health now owned by Canopy, Organigram (OTCQB:OGRMF), and Supreme Pharmaceuticals (OTCPK:SPRWF). These were SSCBs resulting from upside volatility. In the 2016 instance, the markets continued to rally for another few months but then went into a gentle swoon for most of 2017.
On November 14, 2017, after a brief rally in the cannabis stocks following the Canopy Growth – Constellation Brands (NYSE:STZ) transaction (Can/Con), there was an upside SSCB on ACBFF. One swallow does not a summer make, so this is not a red flag. Maybe a pink flag that will turn red if more SSCBs come down the road.
Of course, one thing I have learned from watching contrary opinion at work is majority opinion can rule for a long time. So, before running for the exits, I want to refer to the best example of contrary opinion being right but very wrong is what I call the case of "irrational exuberance." I worked in the investment business through the "dot-com bubble" in the second half of the 1990s, and I remember the day after the Federal Reserve Chairman said the stock market was exhibiting "irrational exuberance." We all thought this meant Alan Greenspan was saying the stock market was too high and about to turn down.
But it isn't easy to tell when there is too much speculation, and the market is about head lower. For example, in that dot-com cycle, the market began rising in the early 1990s and was well into a full blown hi-tech driven bull market by early December 1996 when Chairman Greenspan made his famous "irrational exuberance" comment to describe the stock market he saw at that time in a televised speech to the American Enterprise Institute. Here is the sound bite from that speech that has been enshrined in stock market history:
"… how do we know when irrational exuberance has unduly escalated asset values, which then become subject to unexpected and prolonged contractions as they have in Japan over the past decade?"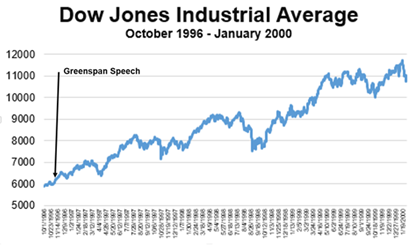 On October 14, 1996, the Dow Jones had closed above 6,000 for the first time. Greenspan gave this speech less than two months later on December 5, 1996, with the Dow at 6,437. A little over two months after that, the Dow crossed 7,000, and five months later, it cruised past 8,000. By May 6, 1998, it surpassed 9,000, it topped 10,000 for the first time on March 29, 1999, and went over 11,000 less than two months later. In other words, Alan Greenspan with access to the best and most current financial information in the world was led to the right conclusion over two years too early. Do you know what they call a correct stock market call that is two years early? They call it wrong! The message is cannabis stocks can exhibit "irrational exuberance" for a long time.
2017 Tax Loss Selling
This seems to be a perfect year for a tax loss selling cycle. As the following charts illustrate, both the Dow Jones Average and the Toronto Stock Exchange Index are at or near all-time highs. (Charts courtesy of Big Charts)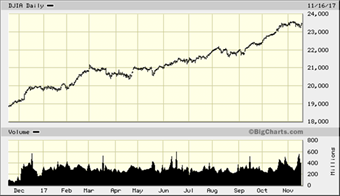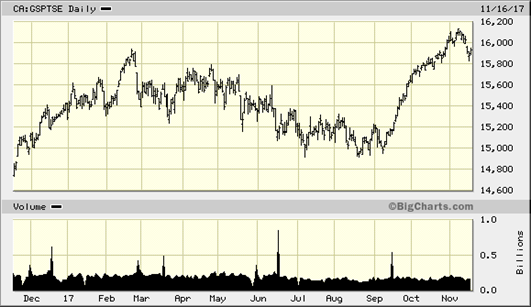 This is a strong indication that American and Canadian investors have net realized taxable capital gains this year. All other things equal, there will be capital gains taxes payable on this income in the current year. The one way to defer the income taxes payable is to offset some or all of those gains by crystallizing net taxable capital losses for settlement in the current calendar year.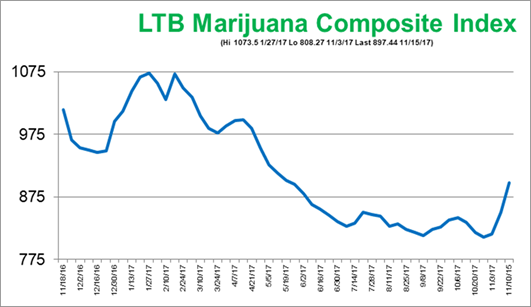 As the chart above shows, the Canadian marijuana stocks are a potential source of losses. To date, the Let's Toke Business Marijuana Composite Index is down over 12% year to date. At the same time, the U.S. Marijuana Index, calculated by The Marijuana Index, is down almost 35% year to date. So, starting in December 2017, and accelerating from the middle of the month through Christmas, the cannabis stocks, especially the U.S. stocks, could come under selling pressure.
In the shorter term, the data I rely on has been pointing to an upturn in cannabis stock prices for a few weeks. I called for an upturn in my Let's Toke Business newsletter in the September 30, 2017, edition, and I am sticking with that expectation for the time being.
The explosive events of the past few weeks, following Can/Con, has resulted in a tumultuous trading pattern. As we said at the time of Can/Con, we expect similar transactions to take place. This week, ACBFF announced it will take a run at Cannimed Therapeutics Inc. (OTC:CMMDF) a Licensed Producer. I use the words "…take a run at…" advisedly because CMED said the first it heard of an offer was when ACBFF announced it publicly. At a value of $582 million, this transaction is potentially larger than the previous record set when TWMJF acquired Mettrum for $430 million. The other difference of course is TWMJF and Mettrum had agreed to terms before an announcement was made. There are other acquisition/merger rumors on the street.
Here are some thoughts meant to guide investors in a market dominated by this kind of uncertainty.
Portfolio Rebalancing
Many individuals began investing in cannabis stocks by allocating a part of their existing portfolio to this relatively new sector. A normal allocation under such circumstances might have been 10% for the more cautious and up to 25% for the more aggressive. Due to market dynamics, however, you now find your cannabis stocks have grown to represent a greater and perhaps much greater part of your total holdings. Rebalancing means selling enough of your cannabis stocks to get the allocation back to where you started.
Leveraged Portfolios
Some individuals might have borrowed money to invest in the cannabis group. Leverage can greatly accelerate returns on an investor's equity. It is wonderful when prices are rising. If you did this with cannabis stocks, you have probably experienced the best that leverage has to offer. But like many things in life, there are two edges to leverage sword, and in a down market, it can destroy rates of return and incinerate portfolios. So, if you are in a profit position in your leveraged portfolio, sell some individual stocks to reduce or eliminate debt.
Stock Rebalancing
In a typical portfolio, an individual stock holding might be somewhere between 2.5% and 5% of the portfolio. Because of the changes in individual stock prices, you may now find these percentages have moved higher. A big winner that started at 5% might now be 15% or more. But even a moderate gainer in the cannabis group will be up. Rebalancing means simply selling enough of an individual stock to get back to your original percentage allocation.
Non-portfolio Rebalancing
Some investors saw cannabis as an opportunity and began to invest some capital into common stocks for the first time. Non-portfolio investors are more likely to be speculators taking higher risk positions in lower quality stocks to maximize growth. Here are some thoughts for the hyper-aggressive or speculator group:
Play with house money: If you are lucky enough to double your money at the casino, the pros will tell you to take out your original stake and set it aside. That means you are using your profits (house money), and if you lose it all, the worst case is you will break even.
Take some money off the table: A variation of the first point is take some gains and set them aside. You may not have doubled up, or you may not want to sell as much. But as long as you sell some, it means if the tide turns, you have limited your losses, and you will have cash to take advantage of lower prices.
Go for broke: Depending on your risk tolerance, you decide this is your once in a lifetime opportunity to pay your money and take your chances. If you know your personal risk tolerances, this is fine. After all, Bill Gates didn't become the world's wealthiest man by diversifying his portfolio. He owned Microsoft (NASDAQ:MSFT) that now has a tiny interest in cannabis due to an investment MSFT made last year.
Dollar-Cost-Averaging (DCA) is a method of investing that tends to drive your average cost of a stock down. The idea is you invest a set amount of money on a regular date, say, the first trading day of each month. If you do this, sometimes, you will buy when prices are higher and sometimes, you will buy when prices are lower. But because you invest the same amount of money each time, when prices are higher, you buy fewer shares, and when prices are lower, you buy more shares. This creates the lower average cost effect.
You can do a similar thing when selling. You don't have to think of selling a particular stock as a one decision event that might be better or might be worse. You can split up that one major decision into several smaller decisions and reduce your holdings over time.
Don't Chase Stocks Up Or Dump Them Down
As regular readers know, I do not advocate bidding prices up when buying, and I don't encourage knocking prices lower when selling. Generally, this goes against the grain of most people's emotional profiles. A simple stock market axiom is buy low and sell high. But it is surprising how hard this is for the average person. It means you have to buy when prices are low or falling and sell when prices are high or rising. So, if you decide to put some of my thoughts into action, keep this in mind as you proceed.
Conclusion
These are practical policies you should use wherever the cannabis stocks trend from here. They are tried and true methods designed to guide investors. They apply whether you are investing a few thousand or hundreds of thousands of dollars. Remember, in the stock market, no one is right all the time. So, if you try something and it doesn't work out in the short run, don't fret about it. If you keep trying to do the right thing, over time, things will work out.
What Is Next?
If you follow one or more of the ideas above, you will accumulate some cash. But having a little cash never hurts in a volatile market. I am on the lookout for another good idea at the present time, and I am sure one will turn up shortly. It may even be that one of the stocks I am recommending that drops in price and creates an opportunity. Anyway, you don't have to catch every train leaving the station. So, hang on to the cash and stay tuned.
Disclosure: I/we have no positions in any stocks mentioned, and no plans to initiate any positions within the next 72 hours.
I wrote this article myself, and it expresses my own opinions. I am not receiving compensation for it (other than from Seeking Alpha). I have no business relationship with any company whose stock is mentioned in this article.
Editor's Note: This article discusses one or more securities that do not trade on a major U.S. exchange. Please be aware of the risks associated with these stocks.