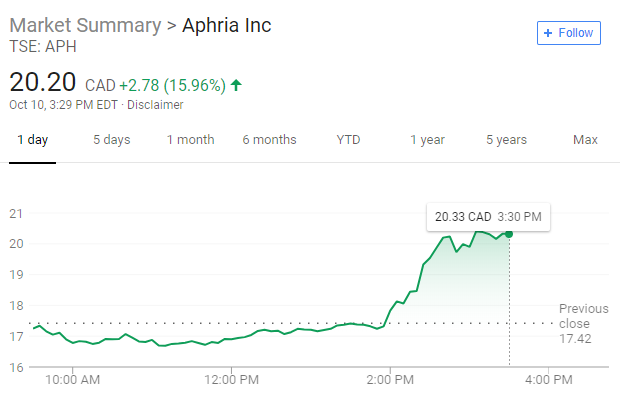 (Google)
On Wednesday, a potential deal was reported between Canadian cannabis company Aphria (OTCQB:APHQF) and tobacco maker Altria (MO).
"U.S. tobacco giant Altria Group Inc. is in talks to acquire an equity stake in Canadian cannabis grower Aphria Inc., multiple sources say.

Details of Altria's proposed investment in Aphria are still being finalized, said the sources, who asked to remain unnamed because the talks are private. They said Altria has expressed an interest in acquiring a minority stake in the Leamington, Ont.-based grower with the intention of eventually holding a majority of the company's shares.

The sources cautioned that it could take time for the two companies to strike a deal and that talks could still fall through."

The Globe and Mail (paywalled article)
Shares of Aphria had been trading at C$17.24 on the Toronto Stock Exchange (TSE:APH), and quickly shot up as high as C$20.36. Shares are currently at ~C$20, as of this writing – up ~16% after being down prior to the news.
For their part, Aphria basically said, "No comment." Aphria's response:
"Aphria Inc. today responded to a request from the Investment Industry Regulatory Organization of Canada regarding media reports suggesting the Company is engaged in discussions regarding a potential investment in Aphria. While Aphria engages in discussions with potential strategic partners and/or investors from time to time, the Company notes that there is no agreement, understanding or arrangement in place with a potential investor at this time.

Aphria will advise the investment community of any material changes, if and when they occur, in accordance with applicable disclosure requirements."
Potential Benefits: Global Expansion
An investment from Altria could pay huge dividends for Aphria. Altria could also benefit from access to the enormous potential cannabis market – worth $200 billion by 2032, according to Canopy Growth – to offset tobacco declines.
From Aphria's point of view, they would gain access to a large pool of both capital and knowledge. Altria has been operating in a regulated industry for decades and has extensive experience working with regulators worldwide. Altria also has decades of experience in a related industry, and could help Aphria in marketing, supply chains, and distribution.
Aphria is not short on cash. In my recent article on Aphria, I noted that Aphria has a free cash flow deficit of ~C$56 million/quarter and has ~C$335 million in net cash. That free cash flow deficit can be expected to turn positive very soon – recreational cannabis will be legalized next week and Aphria's expansion projects are set to come online in early 2019. At that point, Aphria will not have much higher operating cash flow and much lower capital expenditures – they should be significantly cash flow positive.
However, Altria could provide a capital injection that will provide Aphria with optionality. One of Canopy Growth's largest advantages – which I wrote about in "Canopy Growth: The King Of Cannabis Doesn't Come Cheaply" – is that they have billions of dollars in the bank. Globally, cannabis laws are rapidly-evolving. As cannabis laws are loosened around the world (e.g., in Germany last year), Canopy Growth will be able to use their capital to expand into any new country that legalizes cannabis:
"So this is really rocket fuel. It does add quite a lot. As we look around the world, we're going to be expanding production, we're going to be doing more research, we're going to develop more intellectual property, we're going to create more leading brands, we're going to have more products, and we're going to be way more global.

If you're thinking about this it does establish that Canopy is the cannabis platform for Constellation. And that's a great deal of focus and trust, and we took it seriously as a management team. Everybody on my team was unbelievably excited to take this next step to the place where we could actually go global and do it with and for Constellation."

Bruce Linton, Canopy Growth CEO, Q1/FY19 CC (August 2018)
While Aphria does not need additional capital to grow their Canadian production to 255,000 kg/year, an Altria investment could give Aphria the "rocket fuel" it needs to think globally and to compete for global cannabis markets as laws liberalize and those markets open to both medical and recreational cannabis.
History of Investments in Cannabis
This is still just a rumor, and the deal could still fall through. If the deal is finalized, it would be another in a line of investments in Canadian cannabis from alcohol and tobacco makers.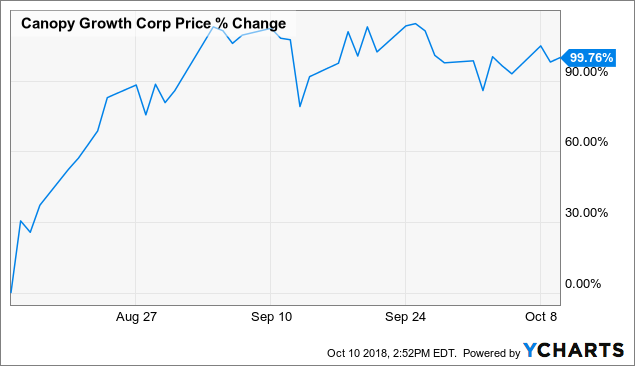 The most notable investment is Constellation Brands' (STZ) $4 billion investment in Canopy Growth (CGC). I have previously written about both the Constellation deal ("Constellation's Risky, Leveraged Bet On Canopy Growth") and Canopy Growth itself ("Canopy Growth: The King Of Cannabis Doesn't Come Cheaply") on this platform.
(Canopy Growth/Constellation Presentation)
That investment sounds quite similar to the proposed Altria investment into Aphria: Constellation acquired a minority stake in Canopy Growth and has warrants sufficient to expand that stake into a majority position. Constellation also has the right to nominate a majority of Canopy Growth's board as a result of the deal.
Shareholders in Canopy Growth were big winners as a result of the Constellation deal. Canopy Growth's US-listed shares closed at $24.62 on the day prior to the Constellation investment (8/14). Yesterday (10/9), shares closed at $48.72 – up 98% since Constellation's investment. Aphria shareholders will hope to see similar gains from an Altria investment.
While Constellation's deal was the largest investment in Canadian cannabis, it is not the only investment.
Back in August, Molson Coors (TAP) entered into a joint venture with HEXO (OTCPK:HYYDF) to form a company which will sell cannabis-infused beverage products. That joint venture now has a name, as of October 4:
"The joint venture, Truss, will be led by former Molson Coors executive, Brett Vye, in the role of Chief Executive Officer. Vye will report to the Truss board of directors consisting of three members appointed by MCC and two members appointed by HEXO.

'With the backing of two partners with deep Canadian roots, proven success, and market-leading experience in the respective beverage and cannabis industries in Canada, Truss will hit the ground running,' said Brett Vye, Chief Executive Officer at Truss. 'When consumable cannabis is legalized in Canada, Truss will be ready to make its mark as a responsible leader in providing high-quality beverages for the Canadian consumer. Why 'Truss'? We are joining together the extensive experience and excellent practices of each partner to build a powerful foundation for the future.'"
Molson Coors owns 57.5% of the Truss joint venture, while HEXO owns the other 42.5%. As part of the deal, Molson Coors received 11.5 million warrants for HEXO shares with a strike price of C$6 for 3 years. HEXO currently trades at C$8.70, up ~85% from its price prior to the Molson Coors deal.
CannTrust (OTC:CNTTF) also has an exclusive partnership with Breakthru Beverage Group, a larger Canadian alcohol distributor. By dollar value, this deal is a lot smaller than either the Canopy Growth or the HEXO deals. As part of this deal, Breakthru invested C$9 million into CannTrust for ~900,000 shares and Breakthru has options to purchase another 2,000,000 shares for a 15% discount.
There have also been other rumors, such as rumors of a deal between Coca-Cola (KO) and Aurora Cannabis (OTCQX:ACBFF). Nothing has come of those rumors yet. However, given interest in cannabis from alcohol companies (STZ, TAP), a tobacco manufacturer (MO), and potentially soft-drink manufacturers (KO), it may be only a matter of time before other deals are announced. The most likely targets would be other cannabis producers with large production capacity – capable of growing enough cannabis to supply a globally-distributed product, be it CBD- or THC-based.
Takeaways
Two weeks ago, I wrote "Aphria: The Best Value Of The 'Big 5' Cannabis Producers" and put a BUY rating on Aphria. This rating is only strengthened by a potential investment from Altria – Aphria will be able to use any capital it receives to continue expanding aggressively within Canada and to make international expansion deals as well.
That said, this is a very volatile time to purchase shares of Aphria. Shares are up sharply today on a deal that has not yet been finalized. Purchasing based on this rumor may be a risky proposition, given that the deal could still fall through or the rumors could turn out to be false or exaggerated.
Further, any investment in cannabis is going to be a risky investment – this is a speculative, volatile market. For that reason, I suggest that investors diversify their holdings within the industry. Consider an approach like my Model Cannabis Portfolio, available to The Growth Operation subscribers, which holds nine different cannabis companies. There is no need to "pick a winner" as, odds are, there will be multiple winners in this market. Holding a diverse group of companies will allow you to weather storms that might impact single companies and will still allow you to capture the long-term upside of this market.
Aphria may also be volatile this week because they are set to announce first quarter (FY19) results on October 12, 2018. I will write more about those results when they are released later this week.
Aphria remains a part of both my personal portfolio and my Model Cannabis Portfolio, available to The Growth Operation subscribers.
This is an exciting time to be a cannabis investor, but please, invest responsibly.

Members of The Growth Operation, my exclusive community, receive:
Exclusive access to my in-depth research articles on smaller cannabis companies.
Access to my Model Cannabis Portfolio.
Up-to-date news and updates on cannabis companies.
Access to my full, live portfolio.
This month only, membership is 25% off for your first year. Prices are going to rise come October, so sign up for a free trial today. (If prices rise later, early members get grandfathered prices, forever.)
Disclosure: I am/we are long APHRIA, AURORA CANNABIS, CANOPY GROWTH, CANNTRUST.
I wrote this article myself, and it expresses my own opinions. I am not receiving compensation for it (other than from Seeking Alpha). I have no business relationship with any company whose stock is mentioned in this article.
Editor's Note: This article discusses one or more securities that do not trade on a major U.S. exchange. Please be aware of the risks associated with these stocks.